5 Tips that you should apply:
Use Anti-Virus Protection and a Firewall- Make sure the AV protection you are using is from a reputable company. Always leave the firewall from Windows or Mac enabled, unless you are using a 3rd party firewall.
Always keep your software up to date-Microsoft as well as Apple are constantly adding updates to secure your systems.
                     • Turn on Automatic Updates for your system-Windows/Apple
• Keep your internet browsers up to date
• Always do you 3rd party updates
USE STRONG PASSWORDS- A Must!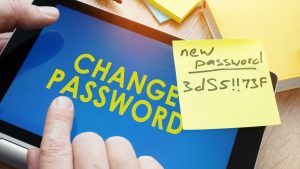 3. The password should contain at least one upper case letter, one    lowercase letter, one number, and four symbols.
Snowy3190 (a combination of my dog's name and the house number from my old home) would take only a millisecond to crack.
Snowy3190* would take six years to crack — adding a symbol made a big difference.
Snowy!31*90## would take 34 million years. PERFECT!Once I got to 18 characters, the site reported that my password would take a trillion years to crack.Do not use the same password twice
Change your password every 6 months to a year.
You can also use a Password Manager Tool (Ex: RoboForm, LastPass)
4. Use Two-Factor Authorization or Multi -Factor
This adds a double layer of security -after entering your user name and password, you would be asked for  a        verification code, set up via an SMS message or Authentication app.
5. Phishing Scams- Suspicious emails, phone calls, newsletters
 Senders try to get you to believe that the email you are opening is real...but it is not.
 Sender want you to click on an attachment, a malicious link, divulge your credentials, so they can infect your system with malware, a trojan, or zero-day vulnerability exploit. This often leads to a ransomware attack. 90% of all ransomware attacks, begin with a phishing scam! USER BEWARE!!!!!
Tips for possible phishing scams:
Don't open email from someone you don't know
Know which links are safe and which are not- hover of the link to see where it directs you
Look at emails as to where it came from (EX: if Chase Bank sent you an email it would not come from someone@ verizon.net)
Always look for grammatical errors
Beware that malicious links can also come from someone you know who may have been infected as well, so be extra careful!